Dhabitah misses out on bronze but wins Malaysian hearts with radiant smile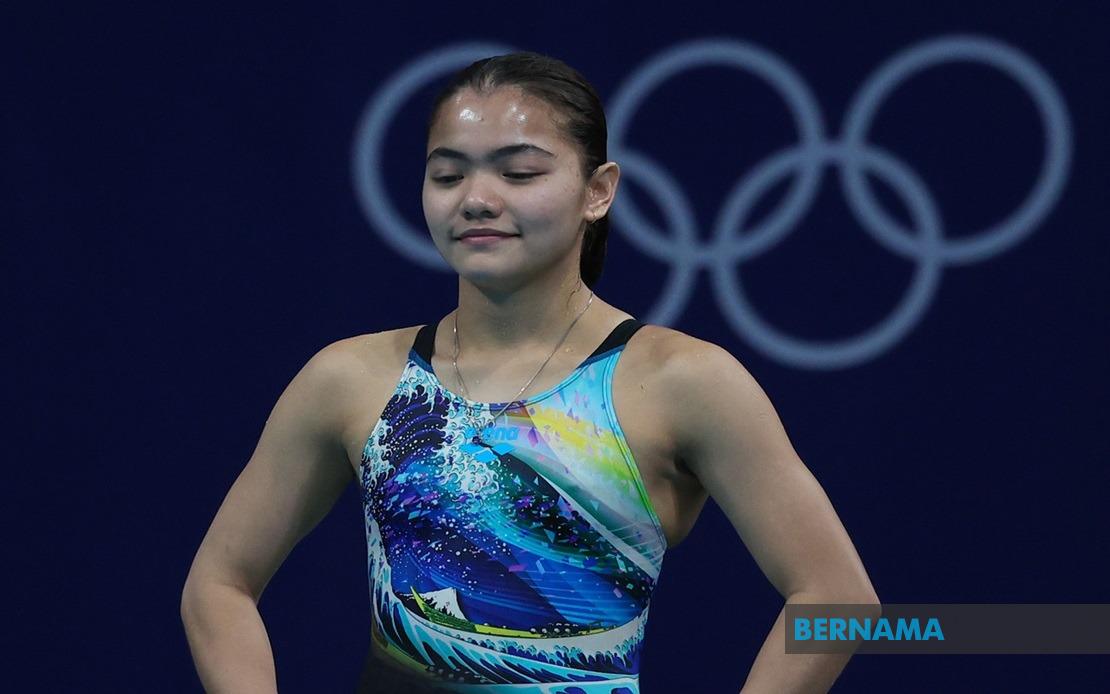 National diver Nur Dhabitah Sabri's performance when making a perfect dive in the women's 3-metre (m) springboard individual final of the Tokyo 2020 Olympic Games at the Tokyo Aquatic Center today.
By Elmi Rizal Elias
TOKYO, Aug 1 -- National diver Nur Dhabitah Sabri may have missed out on a medal at the 2020 Tokyo Olympics, but she sure did win the hearts of all Malaysians with her captivating smile.
In fact, so radiant was her smile that it's widely trending on social media.
Nur Dhabitah, with a smile etched on her face after each dive, ended the women's 3-metre (m) springboard individual final in fourth spot at the Tokyo Aquatics Centre here today.
Despite a consistent performance, the 22-year-old from Kuala Lumpur could only accumulate 326.15 points from five dives.
China's Shi Tingmao defended her 206 Rio edition gold medal when she collected 383.50 points to come out tops while her teammate Wang Han settled for silver with 348.75 points.
American Krysta Palmer took bronze with 343.75 points.
Nur Dhabitah said although she did not win a medal, she was still satisfied with her performance as she managed to give a tough fight to the other divers.
"I am very happy with and proud of myself. In fact, even the coach is pleased. For me, the target here was to make the final. I am still young and have a long journey ahead," she said.
In today's final, Nur Dhabitah began the first round with a score of 63.00 to be placed joint sixth with three others before showing a marked improvement in the next dive to collect 66.65 points to be fifth out of 12 finalists.
Unfortunately for her, she did not do too well in her third dive, resulting in her picking up her lowest score of the day with just 61.50 points. But it was still enough for her to move up one spot to fourth.
She then stepped up a gear to score 67.50 points in her final two dives respectively and end the competition in fourth spot with a 326.15 total.
"I was consistent with my dives. It's just not my day. So, no regrets because I gave it all my all," she said, adding that she would continue to work harder.
Asked about her pleasant demeanor and radiant smile after each dive, Nur Dhabitah said she was truly excited to be able to compete in the final.
"I'm enjoying the game and body language is important. I don't want to show to the people that I'm nervous," she said, adding that she would now like to rest and spend time with her family.
"It's been a long time since I saw my family, feels like it's been a year," she said in a tearful tone.
This is Nur Dhabitah's second Olympic appearance, having finished fifth in the women's 3m springboard synchronised event with Cheong Jun Hoong and ninth in the 10m platform at the 2016 Rio Olympics.
On Saturday (July 31), national men's doubles shuttlers Aaron Chia-Soh Wooi Yik bagged a bronze for the country's first medal at the 2020 Tokyo Olympics when they downed Indonesians Mohammad Ahsan-Hendra Setiawan 17-21, 21-17, 21-14 in the bronze medal match at the Musashino Forest Sport Plaza here.
-- BERNAMA