Twin mission for Syaqiera in 2022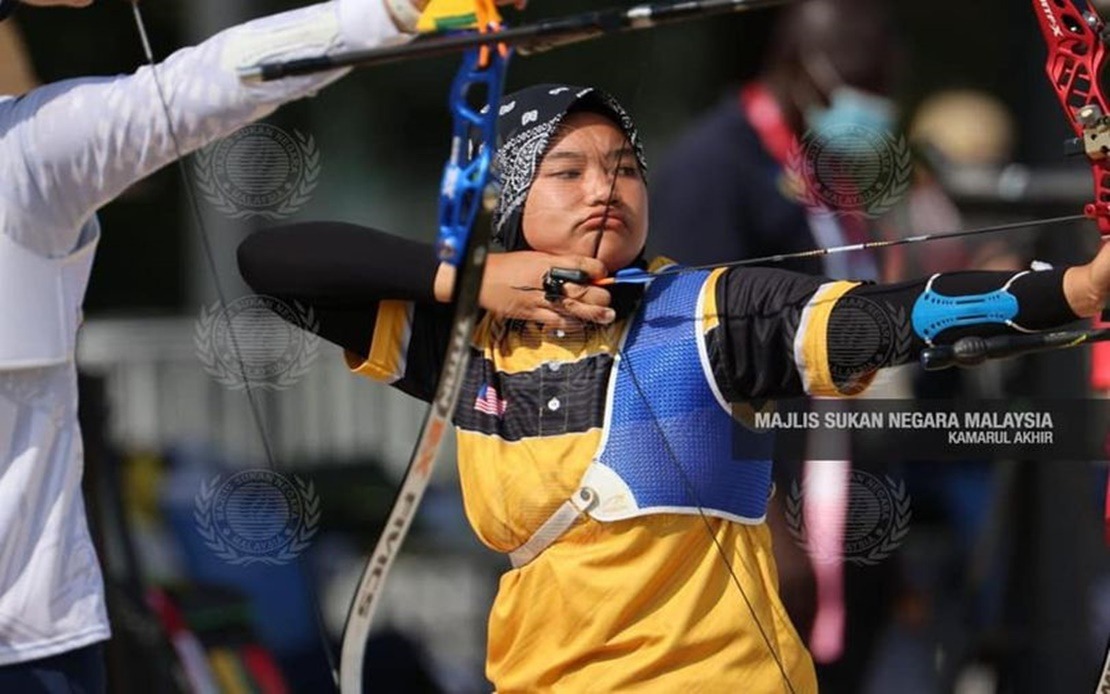 Syaqiera Mashayikh (Credit: FB - Majlis Sukan Negara Malaysia)
KUALA LUMPUR, Dec 30 -- After her dream of becoming an Olympian came true this year, the country's young female archer Syaqiera Mashayikh now has a twin mission in her sights for 2022.
Syaqiera, who made her debut at the 2020 Olympic Games in Tokyo (postponed to 2021) in July, is determined to pull off a two-pronged mission of first, helping the national women's recurve squad improve its world ranking and in the process brighten their chances of winning a ticket to the 2024 Paris Olympics.
The Johor-born athlete from Segamat is also hunting for a slot in the individual recurve event in Paris, and is aiming to break her personal best archery record of 630 points set in the ranking round action at the Tokyo Olympics.
Syaqiera said nothing else was playing on her mind at the moment except the twin missions which were her (2021) new year resolution which are to make a name for herself by competing in the Tokyo Games and achieving the desired world ranking.
"I can't think of another resolve (2022 New Year resolution), I just want to qualify for the (Paris) Olympics. So I and the team need to improve our position in the world rankings because now we are ranked 30th and we want to be ranked 25th or better," she told Bernama today.
"When it comes to individual events, I must focus on the number of points collected, to create a new record that surpasses the previous best (record), scoring 635 points first," added the 21-year-old archer.
For the record, both the country's men's and women's recurve squads missed the qualifying mark for the 2020 Tokyo Olympic Games after falling short in the qualifying tournament in June.
However, luck was on Syaqiera's side when she was selected by the National Archery Association of Malaysia (NAAM) after Malaysia received a slot (because she and the team had passed the Minimum Qualification Score) for the women's individual recurve event in Tokyo at the last minute, but alas, she was eliminated in the first round.
The appearance in Tokyo made her the country's third female archer to compete in the Olympics, after Olympians Mon Redee Sut Txi (Athens 2004) and Nurul Syafiqah Hashim (London 2012).
Syaqiera at the same time said that apart from the mission to qualify for the Paris Olympics, she and the team also intended to take home medals at the Hanoi SEA Games in Vietnam scheduled for May next year.
"Indeed, we as a team are focused on the SEA Games, to win medals for the country, God-willing and we will fight to achieve that target," she declared.
In the meantime, Syaqiera hopes she will continue to remain in the Podium Programme under the auspices of the National Sports Council (MSN) for the sake of her sports career in archery.
She said her Podium contract expired this month and is now awaiting a new offer for 2022.
-- BERNAMA